Ferry passengers at Port of Dover facing long delays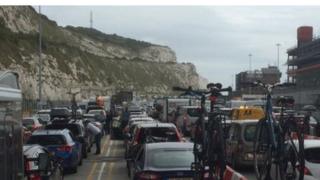 Ferry passengers heading to France have been experiencing long delays caused by adverse weather conditions overnight and technical issues with a ship.
P&O passengers have been facing delays of up to four hours leaving the Port of Dover, while those travelling with DFDS have been delayed by about 30 minutes.
P&O said it had been necessary to take one of its ferries out of service.
Roads in and around Dover, including the A20 and A2 eastbound, have also been extremely congested as a result.
Passengers have taken to Twitter to express their dismay at the delays.
Vicky Hughes tweeted: "Should have been on the seas by now heading for our summer break, currently sat in a giant car park in Dover."
John Darling, from Ashford, said: "Coming up to 4hrs now and still nowhere near a ferry, DFDS on the other hand are free flowing!!!"
A P&O Ferries spokesman said: "We would like to apologise sincerely to every customer who has been inconvenienced by today's delays at the port.
"I would like to assure everyone that we are doing everything we possibly can to improve the situation and help everyone complete their journey as soon as possible."
Both P&O and DFDS said customers arriving late due to the delays on the motorway and at the port would be put on the first available sailing at no extra cost.
Highways England said it was working closely with Kent Police and the Port of Dover to manage the delays into the port.