Medway Council changes plans to axe children's centres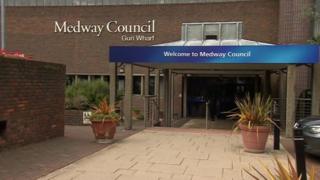 Medway Council has changed plans to close all of its 19 children's centres and has now decided to shut only six of them.
The authority initially proposed closing all the Sure Start centres and replacing them with 4 larger hubs.
But a recent public consultation showed 85% of respondents were against the plans to close all 19 centres.
Now the council is planning to have 13 centres, of which four will become children and family hubs.
The final decision on the closures will be taken by the council's cabinet on Tuesday.
The authority said the closures were needed as a result of changes in government funding and a reduced council budget.
Andrew Mackness, the Conservative lead member for children's services, said: "We have listened to the public's feedback and used this to design a model for our early help services that best meets everyone's needs and can achieve the £1.6m that we are required to save."
Medway Labour Group's leader Vince Maple said the process had been "completely rushed" without time to consider alternative proposals.
He added: "It is for that reason we have called on the consultation to be extended to look at further examples of how budget savings could be made without centres closing."