Kent Police defends 'cruel and dangerous' spit hoods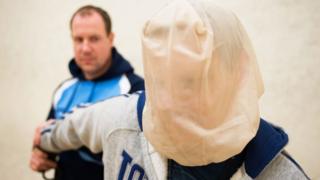 Kent Police has defended its use of spit hoods amid criticism by a human rights lawyer that they are "primitive, cruel and dangerous".
The force started training officers to use the hoods in June and since then they have been used twice.
Police said the hoods were an approved device under constant review and Kent Police Federation welcomed the move.
Lawyer Aamer Anwar said police had a right to defend themselves but use of the hoods was "primitive and cruel".
"What it actually does is provoke huge fear, humiliation, and even suffocation, especially in situations where people happen to have mental health problems or may be on drugs," he added.
HIV tests
Chris Carter, from the Kent Police Federation, said officers had training on how to use hoods and had to justify how they used any equipment.
An unnamed police officer who has undergone blood tests for Hepatitis B, Hepatitis C and HIV since he was spat at in January said it had a big effect on his life.
Kent Police said officers, staff and the public deserved protection against spitting and biting, and the associated risks and safeguards were in place to ensure lawful and proportionate use.
Supt Phil Hibben said spitting caused immense distress, particularly if someone had a contagious disease, and could lead to protracted, uncomfortable treatment of officers and worry for their families.
"People have a choice as to whether or not they spit and it's an intentional act," he said. "So if people don't spit they've got nothing to fear."