Cash stolen from van in fake police sting on the A21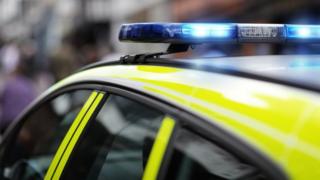 The driver of an unmarked van carrying bags of cash was robbed by two men posing as police officers.
The white Ford Transit was on the A21 in Kent at about 07:00 BST on Monday when two men in a black Audi A3 activated a blue light and siren.
After pulling the driver over, they threatened him and stole a number of black and white plastic sacks filled with money.
The Audi was subsequently found set alight in a car park at Brasted.
Kent detectives admitted they do not know the value of the cash taken, but said the van was travelling on the coastbound carriageway of the A21 between the M25 junction and Morley's roundabout near Tonbridge.
The robbers tied the driver's hands together and placed him in the back of the van while they stole the money.
He managed to free himself and hail a passing lorry after the raiders escaped.
One of the suspects is described as white, in his early 30s, 5ft 2in tall, of slim build with dark hair and wearing sunglasses.
The other is described as white, 30 to 40 years old, 5ft 5in, of average build, with dark hair, a brown beard and wearing a black cap. Both were dressed in dark clothing.
Kent Police issued a plea for public help to trace the raiders.