Turkish Airlines pilot refuses to fly failed Kent asylum seeker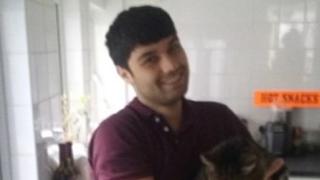 A failed asylum seeker remains in the UK after the pilot of a plane on which he was to be deported to Afghanistan via Istanbul refused to fly him.
Samim Bigzad, 22, had been living in Ramsgate, Kent, after entering the UK illegally two years ago in order to join his father who was granted asylum.
The Turkish Airlines pilot refused to fly Mr Bigzad when he became hysterical as he was put on the plane at Heathrow.
He was taken to an immigration removal centre. The airline has not commented.
Craig Mackinlay MP, who represents South Thanet, said he was sympathetic to Mr Bigzad's situation but said he should still be deported.
'Life at risk'
Mr Bigzad sought asylum in Kent after spending time in the Calais migrant camp.
He said he fears he would be beheaded by the Taliban because of his work for a US contractor when he lived in Afghanistan.
His father, for whom he has been the main carer, has lived in Margate for 10 years, and suffers from Post Traumatic Stress Syndrome (PTSD).
Mr Bigzad was detained last month after the Home Office dismissed his asylum claims, and told he would be put on a flight home last Saturday.
According to the Independent newspaper, the pilot refused to take off saying: "I'm not flying. Someone's life is at risk."
Mr Bigzad is currently being held at Brook House immigration removal centre near Gatwick Airport.
'Not good message'
Mr Mackinlay said: "We have immigration rules, we have a legal process, and from what I can see that's been robust.
"We cannot have a system whereby an illegal entry via the Calais jungle results in allowing to stay. That is not a good message."
A Home Office spokesman said staff made "fair and considered decisions" relating to asylum and human rights claims.
"Removal is only enforced when we and the courts conclude that it is safe to do so, with a safe route of return," he said.