Aylesford widow's grief over husband's unexplained injuries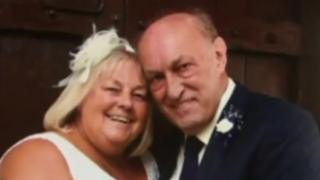 The widow of a 69-year-old man discovered by the roadside with multiple fractures has been told she may never know what happened to him.
Derek Gane was found by a member of the public next to a footbridge crossing the M20 from Teapot Lane to Aylesford Railway Station in Kent on 14 August.
He had taken a short walk through the village of Aylesford to a cafe.
His wife Anita said his injuries were so bad that his life support machine had to be turned off after three days.
"I knew Derek's wishes - he didn't want to be on life support if there was no quality of life, which there wasn't going to be if he'd have survived."
Mrs Gane said the worst part was not knowing how he had been injured.
"I just haven't got a clue what happened," she said.
"They [Kent Police] said I might possibly have to face that I might never know what happened to him."
The former railway engineer was found with serious injuries just after 10:30 BST.
A CCTV image taken just beforehand shows him wearing a grey t-shirt, blue jeans and brown boots.
Kent Police have appealed for anyone who saw Mr Gane walking along Teapot Lane, over the M20 footbridge, or in Station Road where he was found, to get in contact.