Snodland fire: Residents 'left with nothing' in flats blaze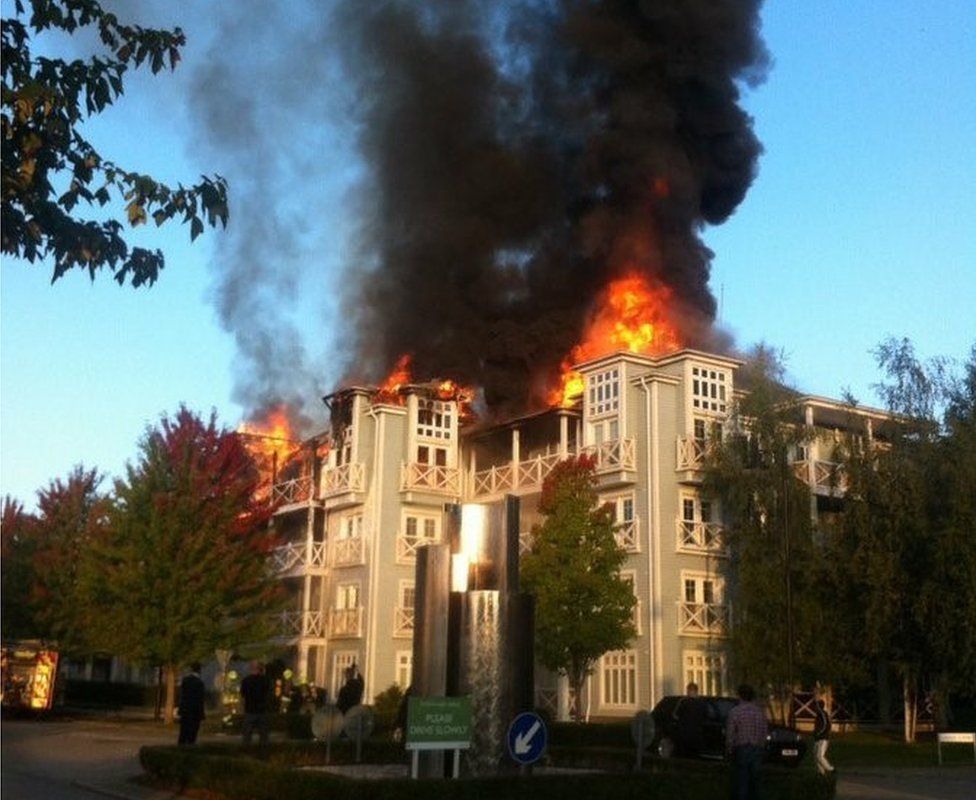 Residents forced to leave their homes after a fire at a block of flats say their properties have been destroyed and they have been left with nothing.
The fire in Manley Boulevard, Holborough Lakes in Snodland, was reported at about 06:50 BST, Kent Fire and Rescue Service said.
At its peak more than 100 firefighters were at the scene tackling a blaze.
The cause of the fire is not yet know. Alternative accommodation is being found for those affected.
No-one was seriously injured in the blaze, but some residents of the 22 flats in the block say everything they own has been destroyed.
Lee Hayes, who lives in the block, said: "I was woken up to banging on the door. I ran into my living room and just outside my patio doors there were flames engulfing the whole building.
"There's pretty much nothing left of my property."
Louise Finch said her whole life had been in her flat.
"We've all lost everything, absolutely everything."
Eyewitness Les Jeal said: "It's calmed down now, the whole block is evacuated and everyone is accounted for and safe.
"The local Snodland community have come together and rounded up donations for the families affected."
He said online fundraising pages had been set up for those forced to leave their homes.
"Most families have been left with just the clothes on their backs."
Dean Bone-Knell from Kent Fire and Rescue Service said the building had suffered "serious structural damage".
"Some of the flats have been completely burnt out.
"You can see the facade of the building, but inside it's very unsupported and our firefighters have got to be very careful that parts of the building don't collapse."
A community briefing centre has been set up for the residents of the 22 flats in the block in Lambe Close, Manley Boulevard, the fire service said and those affected are being found alternative accommodation.
A spokesman for the fire service said crews were likely to remain on the scene for some time.
Related Internet Links
The BBC is not responsible for the content of external sites.