Kent mattress 'mountain' businessman fined £15,000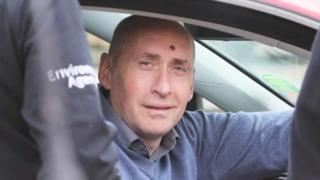 A man who illegally stockpiled a "mountain" of mattresses has been fined £15,000 for failing to clear it.
Lewis Bertram, who ran recycling firm Eco-Matters in Smarden, Kent, had earlier admitted failing to comply with a waste removal enforcement order.
Bertram pleaded guilty to two charges at the August hearing. At Canterbury Crown Court in February he was found guilty of illegally dumping the waste.
On the latest charges, he was sentenced at the city's magistrates' court.
The mattress pile was initially reported to authorities in 2014 and the Environment Agency was alerted by neighbours' complaints that the rubbish posed a fire risk to nearby properties and risked damaging rivers.
The waste, piled up near Ashford, also included bed frames and textiles.
Jon Griffin, from the agency, said the fine shows the seriousness of the offence, and added: "Our priority is still to get the site clear. Responsibility for that has now passed to the landowner.
"We've served notices on the land owner requiring them to clear the waste by 10 November."
Magistrates heard Bertram had failed to comply with two notices from 2015, under the Environmental Protection Act, to move the waste.
They noted the fine had little bearing on the environmental impact caused by the rotten mountain of rubbish.