Folkestone 'list closure' GPs ordered to stay open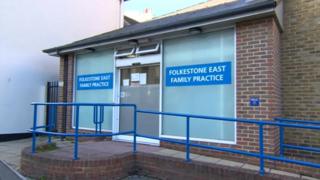 Seven GP practices that had planned to close their lists because of safety fears amid a GP shortage have been ordered to keep accepting new patients.
The Folkestone surgeries have said they will appeal against the decision by the South Kent Coast Clinical Commissioning Group (CCG).
Dr Qasim Mahmood, of the Hawkinge and Elham Valley practice, said GPs wanted to provide "a safe, effective service".
South Kent Coast CCG said people needed to continue to be registered.
The GPs had said the situation had become more acute with the imminent closure on 1 November of the Folkestone East Family Practice, which has 4,500 patients and failed to recruit enough doctors to stay open.
Dr Mahmood said: "We have been allocated patients forcefully to our list, whether or not we say we can handle them safely.
"We want not to provide a sub-standard service. We want to provide a safe, effective, reliable service for our patients."
Legal right
In a statement, South Kent Coast CCG clinical chairman Dr Jonathan Bryant said: "We feel that the only way to safely ensure local people continue to be registered with a local GP after 31 October is to allocate Folkestone East patients to existing practices in the town."
He said everyone had a legal right to be registered with a GP and the CCG had a legal responsibility to ensure this.
Practices taking on patients from Folkestone East would receive an additional £42.68 per patient to meet additional costs for the first year, Dr Bryant added.
The CCG was also investing £1.2m this year in new services in Folkestone, he said.
Practices who applied to close their lists were: Central Surgery, Guildhall St Surgery, Hawkinge and Elham Surgery, Manor Clinic, The New Surgery, Park Farm Surgery and Sandgate Road Surgery.
See more on this story on the Sunday Politics South East on BBC One on Sunday 15 October at 11:00 BST, and later on the BBC iPlayer.