Kent PCC Matthew Scott given 'advice' after car rolls away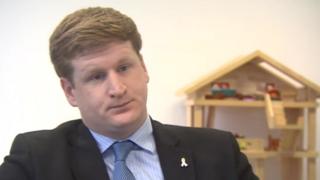 Kent's police and crime commissioner will be given "words of advice" after his car rolled away when it was parked with the handbrake seemingly off.
The incident was witnessed by BBC reporter Jon Hunt and a cameraman at Kent Police's Maidstone headquarters.
The locked vehicle belonging to Matthew Scott travelled through the entrance, crossed a footpath and came to a stop on a verge, just missing a lamppost.
A police spokesman said officers would be speaking to Mr Scott.
Following the incident on Wednesday, Mr Scott told the BBC he had left his handbrake on.