Kent fire service's Dirty Dancing parody is a hit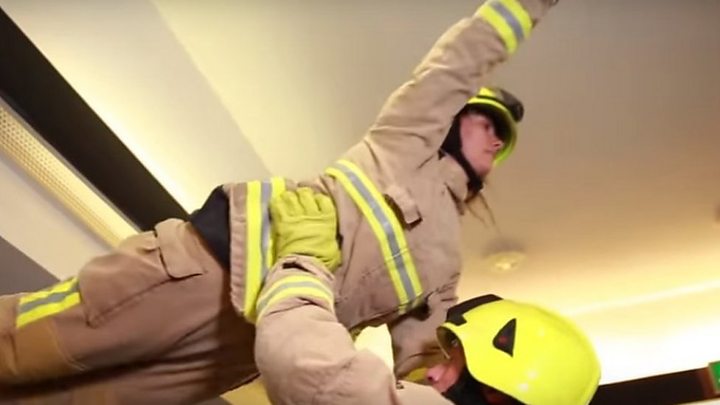 A fire safety video featuring a Dirty Dancing-inspired version of the fireman's lift has been a hit.
The parody video features two members of Kent Fire and Rescue Service performing the famous move from the 80s classic as a novel way to test a smoke alarm.
It was shared on Twitter, with the message: "Nobody puts fire safety in the corner".
Since its release on Saturday, the video has had more than 1,300 retweets.
In the video, watch manager Joanne Gilham and firefighter Nathan Pavey take the places of Jennifer Grey and the late Patrick Swayze.
The video urges people to "keep having the time of your life - test your smoke alarm weekly".
Kent Fire and Rescue said it was "a simple yet serious message" - although warned the public not to attempt the unusual method themselves.
Ian Thomson, head of community safety, said a "quick check" of smoke alarms every week could make a difference to lives.
"We really want people to make it part of their weekly activity.
"If you have difficulty reaching for the smoke alarm then you could use a broom handle or ask a relative or neighbour to help.
"These life-saving devices are vital in every home," he said.
It is the latest in a series of similar film parodies created by the fire service.
Last month, a parody of horror movie IT urged the audience: "Don't be a clown", while in December 2015 a parody of Star Wars: The Force Awakens advised: "You don't have to be a Jedi to keep your home and family safe from fire."