Richard Page: Gay adoption row Christian loses NHS case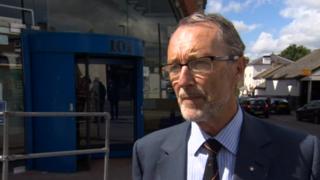 A Christian who was sacked as an NHS boss after comments against same-sex adoption has lost a legal bid to be reinstated in the role.
Richard Page, 71, went to an employment tribunal claiming discrimination, harassment and victimisation against the NHS Trust Development Authority.
He said the ruling was disappointing and he would appeal against it.
His comments about same-sex adoption in a BBC television interview also led to him being sacked as a magistrate.
Mr Page, from Headcorn in Kent, spoke to the BBC after he disagreed with his fellow magistrates over placing a child for adoption with same-sex parents.
He said: "My responsibility as a magistrate, as I saw it, was to do what I considered best for the child."
He was later removed from office for "bringing the judiciary into disrepute".
'Promotes equality'
A year later, in March 2016, Mr Page was removed as a non-executive director of the Kent and Medway NHS and Social Care Partnership Trust (KMPT).
At the time, KMPT chairman Andrew Ling said his comments and continuance as a trust member would have a major impact on staff and patients, particularly lesbian, gay, bisexual and transgender (LGBT) staff.
Mr Page brought his claim against the NHS under the Equality Act 2010, with the support of Christian Concern and the Christian Legal Centre.
Following the reserved judgment, he said: "I am very disappointed by this outcome but I am determined to appeal."
An NHS Improvement spokesman said the judgement reinforced "the importance of all NHS Board members upholding the standards set out by the NHS Professional Standards Authority" which promotes equality and inclusivity.