Primary school head 'silenced' over governor sex doll investigation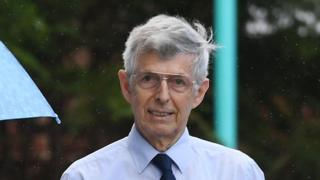 A head teacher was "forbidden" by the Catholic church from telling parents a school governor was being investigated over a sex doll, the BBC has been told.
David Turner, of Ramsgate, Kent, was jailed last month after he admitted importing a child sex doll.
Parents say it was nine months after Turner's arrest that St Ethelbert's Catholic Primary in Ramsgate told them he had been investigated.
The school and the Archdiocese of Southwark have declined to comment.
Turner was arrested in November 2016, charged in April and went on to appear in court in June - but parents said they were only alerted by the school in August.
Turner, who also served as a church warden at St Ethelbert's Church, Ramsgate, the church linked to the school, had also admitted downloading 34,000 images of child sexual abuse.
Parents said they approached head teacher John Letts for answers, but Mr Letts, who is also a safeguarding representative for St Ethelbert's Church, told them the archdiocese had stopped him telling them sooner.
One mother, who has not been named, told the BBC the whole incident had been "silenced" and said: "To me, the church doesn't have that right."
Another parent wrote on social media: "School have been forbidden by the diocese to release a statement...it's horrendous."
South Thanet MP Craig Mackinlay said the situation was appalling.
"The school could have behaved better," he said.
"They could have had a public meeting within the school with parents to actually explain the measures that they are undertaking in terms of safeguarding issues and general safety."
The BBC has also discovered Turner stole photos of pupils from the school.
The Crown Prosecution Service confirmed Turner removed photos - of events such as dressing up days and held legitimately by the school - without permission.
One parent, Emily Davies, said she had no choice but to remove her daughter from St Ethelbert's.
She said: "The school should have made a statement straight away. The parents should have been all completely reassured.
"I should not be having to find out the information by myself, about what might have happened or could have happened to my daughter."