Film producer Harvey Weinstein this year's Edenbridge bonfire Guy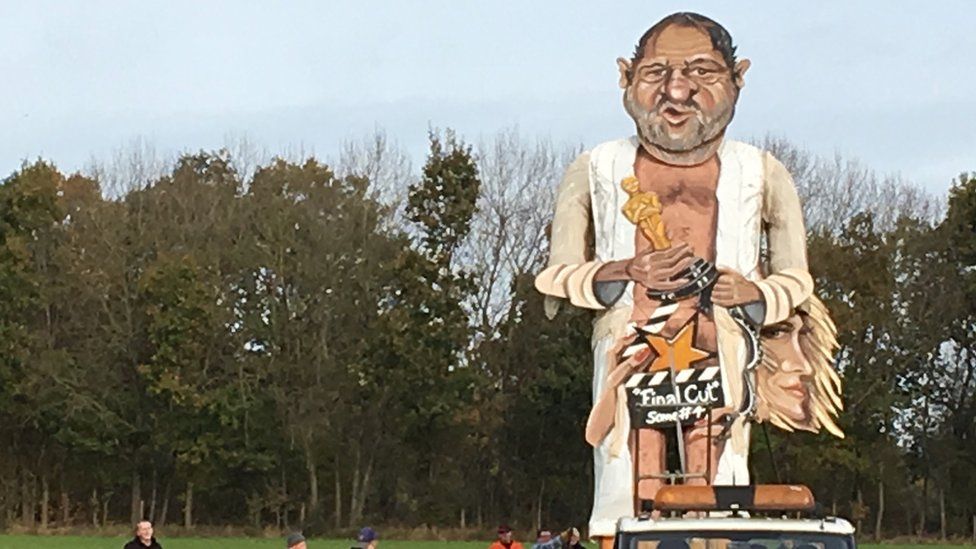 An effigy of Harvey Weinstein is this year's effigy to be burned at a Kent bonfire society's annual celebration.
UK and US police are investigating Mr Weinstein over sexual assault allegations.
The Edenbridge Bonfire Society, well known for its flaming figures, will burn the effigy on Saturday, raising money for local charities.
Previous Guys have included Donald Trump, Sepp Blatter, Katie Hopkins and Wayne Rooney.
More than 10,000 people are expected to attend the annual event, with families visiting from London, Surrey, Sussex and Kent.
The event begins with a torch-lit procession through Edenbridge at 18:30 GMT, led by the Bishop of the Bonfire, his choirboys and the society's effigies, which also included Guy Fawkes, together with visiting Sussex bonfire societies.
The effigies are then burned following a fireworks display.
Related Internet Links
The BBC is not responsible for the content of external sites.