Scotney Castle collector's rare coins found in study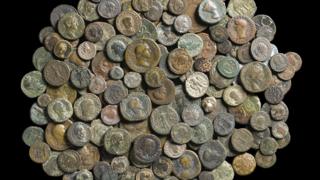 Rare coins spanning 2,500 years have been discovered by volunteers searching for photographs in a study drawer.
The collection was found at Scotney Castle, the former home of the Hussey family, in Kent.
Volunteer Henrike Philipp said the National Trust had been making discoveries since it opened the mansion in 2007.
Roman coins make up the bulk of the collection, amassed in the 19th Century by Edward Hussey III and his son Edwy.
Diary entries show the pair were working on their collection from the 1820s to the 1890s.
National Trust archaeologist Nathalie Cohen said: "We know that Edward and Edwy Hussey had a great interest in collecting, but this considerable cache of fascinating coins shows just how much their interest grew into a collection of exceptional importance.
"What is a mystery though is why a collection of this calibre ended up at the back of a drawer."
She said the collection stretched as far back as Archaic Greece, with a 700BC silver token featuring a depiction of a sea turtle - a creature sacred to Aphrodite.
Scotney Castle was the Lamberhurst home of the Hussey family for 200 years before it was left to the trust.
The coins, comprising 186 in total including some from Syria and China, went on display on Saturday to mark 10 years since the house opened to visitors.