Sons' appeal over Folkestone blood-soaked taxi murder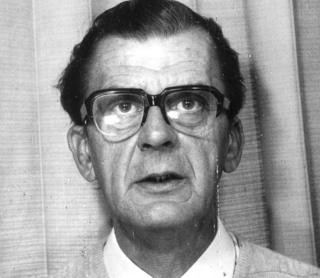 The family of a man whose body was dumped at the side of a motorway after a "violent and frenzied" attack in his blood-soaked taxi is appealing for answers almost 30 years on.
Derek Brann left his Folkestone home on 5 November 1988 and his car found in a lay-by in Sandgate the next day.
His body was discovered two weeks later behind a crash barrier on the M20. He had been repeatedly stabbed.
Kent Police cold-case detectives hope DNA may help find his killer.
The 48-year-old's sons, Aaron and Adrian Brann, said their mother's recent death meant the family wanted closure more than ever.
"Since our mum died last January it has brought up all sorts of memories again and reminded me of the desire we all have to get a positive conclusion to it all," said Aaron, who was 15 when his father died.
"Still to this day I cannot understand why anybody would have done what they did to dad.
"It's incomprehensible."
'Somebody must know'
Mr Brann had called his taxi company at 02:30 GMT on 6 November to say he had been flagged down on Beachborough Road and was going to St Martin's Plain in Folkestone.
His wife, Audrey, reported him missing when he failed to return home. The taxi driver's red Nissan Bluebird car was found in Horn Street later that day.
His body was found two weeks later by a motorist who had broken down on the M20, near the Channel Tunnel junction.
Adrian, who was 13 when his father died, said: "I remember having nightmares on a regular basis. It has been hard.
"As a family we just want a conclusion. Somebody must know who did this."
DS Andrea Richards said when Mr Brann's taxi was found it was "obvious there had been a violent and frenzied attack inside".
"We'll never give up. Someone out there knows what happened to Derek."