One dead and three badly hurt in crash between Dover and Deal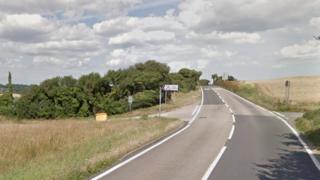 A man died and three people were seriously injured in a crash involving three cars in Kent.
It happened just after midnight on the A258, at the Langdon Cross Road near Deal, Kent Police said.
The driver of a white Ford Connect van, a man in his 30s, died at the scene, Kent Police said.
The other cars involved in the collision were a blue Volkswagen Polo and a black Nissan X-Trail.
The driver and two passengers travelling in the Volkswagen were all seriously injured.
Police are appealing for witnesses.