Flamefest raver Steven Graves 'took lethal MDMA dose'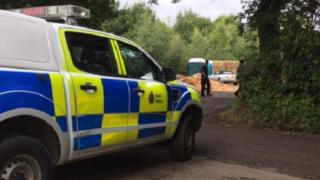 A man found dead after a hedonist festival died from a lethal dose of the drug MDMA, an inquest has heard.
Steven Graves, 53, a technical illustrator from West Byfleet was found unresponsive after Flamefest near Tunbridge Wells in Kent on 22 August.
Mr Graves, a father-of-one, was a regular drug user and had taken a number of substances at the festival, including mephedrone and GHB.
He was discovered under a duvet outside a tent with a female partner.
The inquest at the Archbishop's Palace in Maidstone heard how attempts to revive him at the scene were unsuccessful.
Toxicology reports revealed a fatal quantity of MDMA in his system.
Blue lips
The inquest heard he met Sandra Levy at the festival. They became intimate and started camping together.
They had each taken a pill given to them by a stranger who said it was ecstasy shortly before Mr Graves was found dead.
Event volunteer Daniel Newcombe saw the pair sleeping outside the tent and heard snoring as he pulled a duvet over them, Det Sgt Jim Farley told the court.
He later went to check on them and saw Mr Graves' lips were blue, the inquest heard.
The coroner, Geoffrey Smith, recorded the cause of death as a fatal overdose of MDMA and concluded that the death was drugs-related.
The "kink rave" festival took place on 18-20 August at Brokes Wood in Southborough.
The event boasted a "discreet" adult play area and an outdoor dungeon.
The police investigation into Mr Graves' death found evidence of widespread drugs use at the site, the inquest heard.