Dropped Operation Stack lorry park 'cost £13m'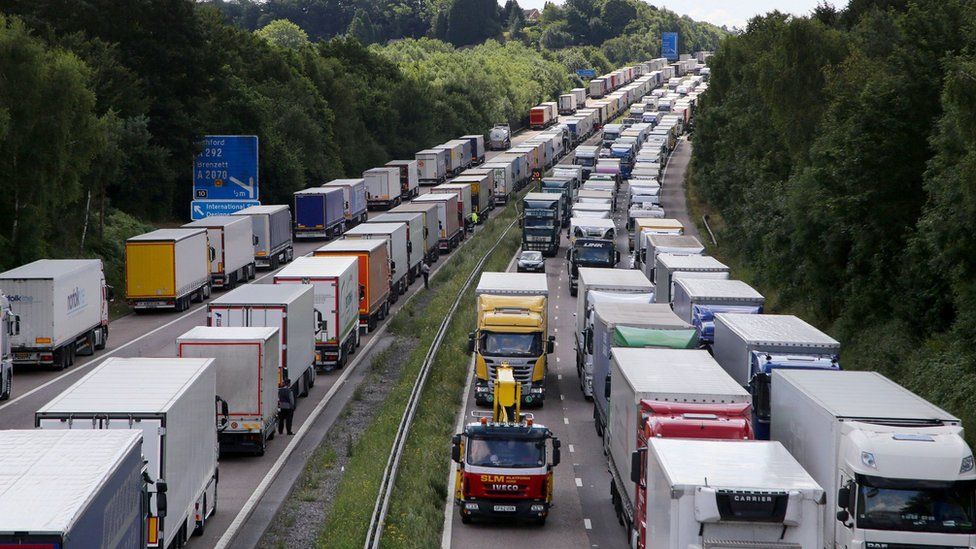 Nearly £13m has been spent on a planned lorry park that was later dropped by the government, the BBC has learned.
The planned park at Stanford, near Folkestone, for up to 3,600 lorries was to prevent the need for Operation Stack when part of the M20 is closed during cross-Channel disruption.
The Department for Transport said last month it had dropped the plan and a fresh scheme would be developed.
Highways England said final costs would still be within the allocated £250m.
Figures obtained under freedom of information showed about £12.9m has been spent so far.
Costs of a judicial review no longer being defended have yet to be established.
Consultation on the park cost about £50,000 but information will be used for a future scheme, the BBC was told
Highways England said compensation was not payable to contractors as a result of delays
A Highways England spokesman said: "The need for long-term improvements to how traffic is managed when cross-Channel services are disrupted is as present as ever.
"The work we have done since 2015 will be useful as we take a fresh look at our plans."
He claimed the amount spent was appropriate for a project at this stage of its development, adding: "We expect the final cost to be in the region of the £250m originally allocated."
Analysis: South East political editor, Helen Catt
Spending of £13m may not sound much when you're talking about a £250m project and, as Highways England says, much of the work done can be used towards developing the new lorry park.
However, when the Stanford West scheme was pulled in November, several MPs made it clear to me they believed the government had made a mistake in the way it had tried to push the scheme through.
That implies any public money spent on preparations that can't be used, now the government is starting again, is spending which could have been avoided.
In a time of continued austerity, scrutiny of this kind of "wasted" money becomes all the tougher.
Stanford Parish Councillor Matthew Webb said public money had been wasted.
He said: "It's £12m or £13m that could have been spent on a lot more things beneficial to Kent."
Folkestone and Hythe MP Damian Collins said some of the money would have been spent anyway.
He said: "The government restarted this project having completed a lot of important work already, so I hope that means there's no duplication in those costs and they can move slightly quicker than they would otherwise have been able to do."
Related Internet Links
The BBC is not responsible for the content of external sites.