Razvan Sirbu death: Victim 'hit with meat cleaver'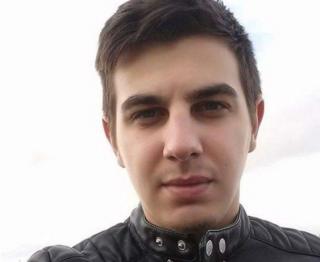 A homeless man sleeping rough died after being hit with a meat cleaver six or seven times, a court has heard.
Razvan Sirbu, 21, was found dead at the Loose Valley Conservation Area in Tovil, near Maidstone, Kent, on 7 May.
One of three people charged with murder told Maidstone Crown Court he hit him with a branch for "being aggressive".
Alex Macdonald said his co-defendant, Charlie White, then hit Mr Sirbu with a meat cleaver but did not kill him. Both men, who are aged 19, deny murder.
Jimmy Buckley, 20, of Capell Close, Coxheath, has been found medically unfit to plead to the same charge.
The jury will not have to decide on the guilt of Mr Buckley, only whether he "did the act".
Live: More news from the South East
Giving evidence, Mr Macdonald, of Regency Place, Maidstone, said the trio and several teenage boys had been in the area because they planned to steal a sit-on lawn mower.
He said he heard a commotion near the end of the park, and discovered one of the boys was being held by Mr Sirbu because he had urinated on his tent.
Mr Sirbu was waving "a lump of wood" around, so Mr Macdonald hit him in the ribs "a few times" with a tree branch, the court heard.
Mr White, of no fixed address, was standing next to him and then hit Mr Sirbu with the meat cleaver, Mr Macdonald said.
He told the jury the group moved away, leaving Mr Sirbu on his feet, but Mr Buckley was still with him.
When Mr Buckley caught up with them later he had a cut on his finger which was producing "lots of blood".
Mr Macdonald said Mr Buckley told him he had "finished him off".
When questioned, he said he could not remember if he had asked Mr Buckley what he had done.
The case continues.