'Surge' in racist abuse to Tunbridge Wells taxi drivers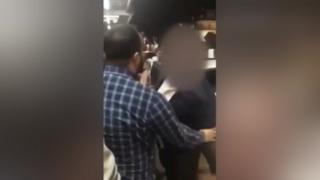 Taxi drivers say they are experiencing racist abuse every weekend and are planning a protest unless the police "do more to protect them".
Drivers in Tunbridge Wells, Kent, said officers are slow to respond to reports of abuse, or do not respond at all.
However Kent Police said it always prioritised reports of racial abuse.
It comes after mobile phone footage was released showing a man shouting racist comments and obscenities at a driver outside the town's railway station.
The filmed altercation was over a quoted fare of £42 and the victim, whose identity the BBC has agreed to protect, said: "It was shocking; afterwards I couldn't sleep. I was shaking the whole time, even when the police arrived.
"It's just not acceptable, it's not right, it's not safe. You can't just abuse people for no reason."
He has been in Tunbridge Wells for 16 years but said racism had become worse in recent months.
Hulkan Altinbas, secretary of Tunbridge Wells Hackney Carriage Services, said: "We generally get abused on a weekly basis; lately a lot of terrorist words have been coming out. The police don't really do anything about it."
The group plans to hold a slow drive through the town in protest, to raise the issue to Kent Police, and has not ruled out strike action.
Chris Mayers from Kent Police said: "Every report made to Kent Police is thoroughly reviewed and there will always be positive action taken where we receive reports of racial abuse. It is a priority for Kent Police.
"We support taxi drivers. I don't want to see anybody's likelihood affected."
The incident that was filmed is being investigated by British Transport Police. A spokesman said the force was looking at available CCTV and speaking to witnesses.