Woman arrested after postman hit by car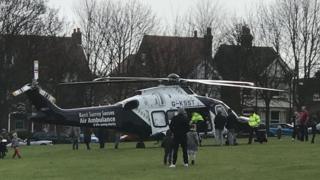 A woman has been arrested on suspicion of drinking and driving after a postman was hit by a car while on his round.
The man in his 50s was delivering post in College Road, Margate, just after 10:40 GMT when the crash happened.
Kent Police said he was airlifted to King's College Hospital in south London with serious injuries.
A Royal Mail spokeswoman said: "We are working with the police to understand what happened and will support our colleague in recovery."
A 43-year-old woman is in custody, police said.
The road was closed while investigations were carried out and re-opened at 14:40.