University of Kent boss given extra £45,000 payout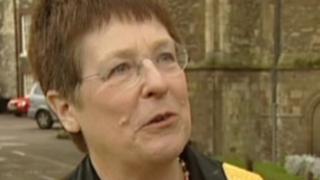 A retiring University of Kent vice-chancellor received a final pay packet of £324,000, sparking criticism it is "one rule for the few at the top and another for everyone else".
Dame Julia Goodfellow was given an extra £45,000 in July, compared to the previous year's salary.
The university said the deal was in part "recognition of her sustained high performance".
The University and College Union (UCU) said more scrutiny on pay is needed.
Dame Julia left her post as vice-chancellor of the university in July after 10 years in office.
A spokesman from the university said the increase in pay was made up of an annual salary increase "in line with the sector average" of just under £20,000, and a one-off bonus of £25,000 to reward her "remarkable leadership attributes".
Sally Hunt, general secretary of the UCU, said: "These latest revelations look like further evidence of one rule for the few at the top and another for everyone else
"Picking up massive pay hikes or bonuses as they retire tell the tale of people massively out of touch with reality on campus and in the wider world."
She also called for "far greater scrutiny of these types of deals that continue to embarrass our universities".
It comes as separate figures for Aston University show that their vice-chancellor Professor Dame Julia King was also awarded £31,000 in performance-related pay.
Last year, former University of Sussex vice-chancellor Prof Michael Farthing was given £230,000 for his final month in the job, and Bath Spa University vice-chancellor Prof Christina Slade was handed more than £800,000 in her final year.