Shock as rare 'male' vulture lays an egg at wildlife sanctuary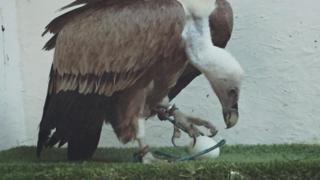 A bird of prey thought to be male for the past 25 years has "flabbergasted" staff at a wildlife sanctuary - after laying an egg.
Harold the griffon vulture has become "extremely valuable" to her declining species after the discovery at Eagle Heights in Kent, on Thursday.
Director of the wildlife foundation in Eynesford, Jonathan Ames, added: "It's crazy. We're going to do everything we can now to find her a male partner."
The birds rarely lay eggs in captivity.
Mr Ames, 31, said the species, which is found in Asia and parts of the Mediterranean, is "on the brink of extinction". He is hoping to breed Harold and release her chicks into the wild.
The birds mate for life so Mr Ames is searching across Europe for a male suitor.
---
Identity crisis
The only way to tell the difference between male and female griffon vultures is through DNA testing, which was done in Tenerife when Harold was a chick.
The results came back as male but Mr Ames said the tests for birds are only around 80% accurate, and probably less so given it was done decades ago.
Her sex had not been questioned before as this is her first egg. It was laid while she is spending her first winter in an aviary, instead of performing in bird of prey displays.
---
Mr Ames said: "She's only really been around humans, so she might find a male bird a bit confusing at first, but it's such good news. We have to try for her.
"She's such a big character here, and a real favourite. Harold became known as the only bird of prey with a fear of heights.
"She took a long time to fly, and even now, rarely goes above two foot off the ground."
The question of whether to rename Harold is still being debated.
The non-profit Eagle Heights has around 120 birds and has been operating just over 21 years.