Richard Kray sentenced for killing daughter Olivia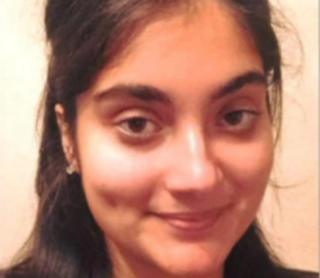 A father has been sentenced for strangling his daughter in his caravan and trying to murder her mother.
Richard Kray, 64, killed Olivia, 19, at Westlands Caravan Park, near Herne Bay in Kent, on 21 July. He then tried to strangle Damyantee Cowan.
He admitted manslaughter by diminished responsibility and attempted murder.
The judge at Maidstone Crown Court handed him a 10-year term to include treatment for post traumatic stress disorder at a psychiatric unit.
Kray, a mental health worker, said he had "lost the plot" and was at his "wits' end" with his daughter, who had a severe anxiety disorder and had battled mental health problems since the age of 10.
After killing Ms Kray, he went to the nearby home of his ex-partner Ms Cowan and tried to strangle her too, dragging her between rooms.
Ms Cowan managed to break free, and ran out of the house to a police station.
Kray later told police he "couldn't let her (Olivia) suffer any more".
"I'm at my wits' end for months and months. I know it's no excuse," he said.
The court heard that in the months leading up to the attacks he had told two people, including his sister, that it would be easier to kill the two of them.
Sentencing him, Judge Philip Statman said Kray's ability to form a rational judgment and exercise self-control was "substantially impaired".
"I believe this was a unique set of circumstances very unlikely to be repeated," he added.
"I'm sure in my own mind that every single day, whatever the sentence, he will think of what he has done."
'Someone she trusted'
He said he had no doubt that Kray loved her and had tried to support her the best he could.
Judge Statman added: "This is not a case where her needs were ignored in any way by you (Kray) or by her doctors and by the NHS as a whole."
In a statement released by Kent Police, Ms Kray's family said she was a "bright and beautiful young lady" whose life had been cut short in "an atrocious and cowardly act".
"We have no doubt in our minds that in time Olivia would have recovered from her health issues and would have had a great future ahead of her."
Det Ch Insp Ivan Beasley added that Ms Kray's life had been taken "by someone she trusted".
"This is a deeply sad case, where a man, failing to see a way of managing ongoing issues with mental health, has instead chosen to kill his own daughter and tried to kill another," he said.
"The family are devastated, and as far as the sentence is concerned they don't feel very happy about it.
"The judge believed this was a very unique case, and did struggle to give an appropriate sentence."