Thanet UKIP councillors end support for leader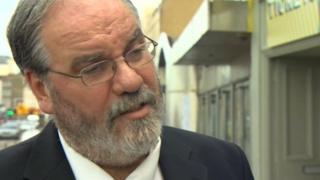 Twelve of UKIP's 25 councillors in Thanet, Kent, have withdrawn support for their local leader and set up an independent group.
The group's leading voice, Stuart Piper, said they would become Thanet UKIP Independents at 11:00 GMT.
The move targets council leader Chris Wells who came to power to front the only UKIP-led council in the country.
Mr Wells said he had "responsibilities above party politics".
He said: "Part of that is to ensure any proposals for the area are legally safe, and within government guidelines.
"Whilst we continue to seek ways to get a local plan through, as a council already in intervention our options are limited."
UKIP national leader Henry Bolton said: "[Chris Wells] should stand down. If he doesn't, the party may have to take further action."
'Lost confidence'
Mr Piper said: "We are essentially withdrawing our support for his administration.
"Councillor Wells appears to have made ignoring the local electorate an art form.
"We are saying loud and clear that we are listening to the public."
In January, Mr Bolton joined 14 UKIP councillors to call for Mr Wells to resign after his local plan for thousands of homes on the Manston Airport site was rejected.
Mr Bolton said: "Chris Wells has lost the confidence of a significant proportion of the group and indeed the public in Thanet.
"He was working on a platform which was to reactivate Manston Airport. He singularly failed to pursue that policy."
The new group of councillors will produce a motion asking for Mr Wells to be removed from his post "unless he goes finally of his own volition", said Mr Piper.
Mr Wells is among the 13 other UKIP members on Thanet District Council.