'Astonishing recovery' for Bewl Water reservoir levels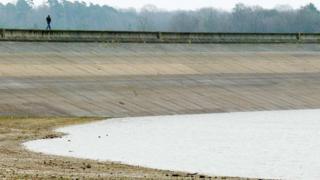 A drought-threatened reservoir's water levels have made an "astonishing recovery", officials say.
Bewl Water, the largest body of open fresh water in south east England, was at 33% capacity in December due to low rainfall and Southern Water applied for a "precautionary" drought permit.
The permit allowed the firm to take water from the rivers Medway and Teise, but in the end it was not needed.
Recent downpours refilled the reservoir and it is now 75% full, the firm said.
The reservoir, near Lamberhurst, provides water to hundreds of thousands of people across Kent and East Sussex and has a 31,000 million litre capacity.
"Despite not using the permit, we are absolutely sure that applying for it was the right thing to do. Given the situation in December, it would have been irresponsible not to have taken every possible step to ensure refill," a Southern Water spokesman said.
"The situation at Bewl was a reflection of the fact that we live in an officially designated water stressed area. We urge people not to waste water."