Sex text Kent policeman guilty of gross misconduct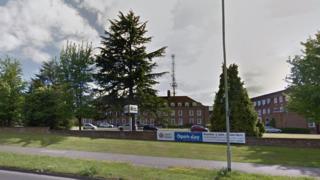 A Kent police officer who bombarded vulnerable crime victims with explicit text messages has been found guilty of gross misconduct.
PC Lance Montgomery, who served in Medway, used his position to send sexual messages and images to four women between June and August 2017.
Montgomery sent a 19-year-old woman more than 500 messages over 10 days, a police tribunal was told.
He has already resigned after 14 years in the force.
Nick Gossett from Kent Police's professional standards department said Montgomery sent messages from his work and personal phones while both on and off duty.
He told the hearing in Maidstone that one victim who was sent a sexually explicit photo "said it was disgusting and made her feel uncomfortable".
'Personal and obsessive'
Another woman, 35, was sent 122 messages in less than 24 hours, including a sexually explicit photo. He also asked her to send messages back, but she did not respond.
Montgomery also sent a 22-year-old woman 90 messages which she said "became personal" and "obsessive".
Mr Gosset told the hearing a 29-year-old woman had received 24 messages in 48 hours while Montgomery was off duty, leaving her feeling "uncomfortable".
She said the messages were "completely inappropriate and added more stress to a stressful situation".
Kent Police Chief Constable Alan Pughsley said: "The evidence I have heard today is overwhelming and completely unacceptable.
"This officer's behaviour was extremely serious and premeditated, exploiting vulnerable victims.
"If he was still a serving police officer I would without reservation dismiss him without notice."
Montgomery was not at the hearing.