British man Lucas Belmonte in Dubai jail over credit card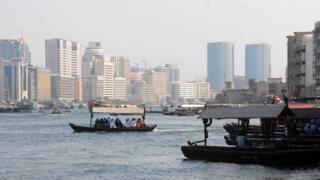 A 22-year-old British man has been jailed for a year in Dubai for using a credit card given to him by a friend to pay for a hotel, a campaign group says.
Lucas Belmonte, from Gravesend, Kent, is being assisted by Detained in Dubai, which said he signed a confession in Arabic under duress.
Chief executive Radha Stirling said Mr Belmonte and his pregnant girlfriend were threatened with a charge of having sex outside marriage.
An appeal is being prepared.
Detained in Dubai said Mr Belmonte faced the fraud-related charge following a holiday with friends over the New Year.
He told Detained in Dubai the corporate credit card he was using had been given to him by a friend.
Ms Stirling said: "It was later found that the credit card was unauthorised for use and he was arrested in his hotel.
"At that point he didn't understand the confusion and his mother just stepped in and paid the disputed amount."
Detained in Dubai said the amount in question was about £14,000.
'Some compassion'
Ms Stirling said: "When he arrived at court [a few days ago] he was convicted and sentenced to one year in prison, a large fine and deportation.
"He wasn't properly represented and he wasn't able to submit a defence.
"A one-year sentence is quite extreme given the circumstances.
"We would have expected that because he had discharged the debt immediately that there would have been some compassion and that he would have been allowed to go."
Detained in Dubai said it was preparing an appeal.
A Foreign and Commonwealth Office spokesman said: "We continue to provide assistance to a British national following his arrest in Dubai in January and are in touch with the local authorities and his family in the UK."