Canterbury Archaeological Trust: Stolen artefacts recovered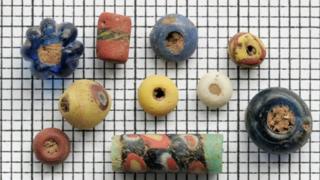 Police have recovered most of a haul of priceless artefacts stolen in a series of raids in January.
More than 850 Anglo-Saxon glass beads, a number of coins and other precious artefacts were taken from Canterbury Archaeological Trust.
Kent Police said it had recovered most of the 2,000 objects from premises in the city's Military Road on Thursday following a tip-off.
No arrests have yet been made as police continue their investigation.
Burglars smashed through a storeroom wall to carry out what the trust described as "one of the largest thefts of archaeological objects anywhere in the country" between 22 and 24 January.
Trust director Prof Paul Bennett said: "Their monetary value is passing but their value to the history of the city and to archaeology in general, and to the nation, is immense."
But he said they were of little value to the thieves.
Sgt Darren Walshaw said: "These are irreplaceable pieces of heritage but we will continue to work to find those responsible for the theft of the items and to also find those items still missing."