Kent County Council to act as guarantor for care leavers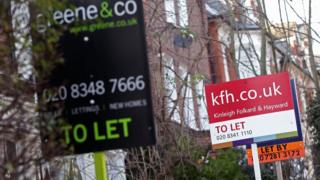 Young people who leave care in Kent could have a guarantor when they rent their first property in a pilot scheme.
Kent County Council hopes its plans will help those over the age of 18 become more independent and avoid being homeless or falling into crime.
Councillor Roger Gough said as a "corporate parent" it should give young people a good start.
The council would enter into separate contracts with the landlord and care leaver.
Vulnerable young people leaving foster or residential care can find it difficult to access private rented accommodation without a guarantor.
After they have turned 18 the local authority is no longer responsible for financing their accommodation and many begin claiming benefits if they are not in education or employment.
'Massive barrier'
When looking for a place to live, they are often competing with other young people in work who have family members that act in the guarantor role.
Sophia Dunstan, 24, told BBC Radio Kent that when she left foster care at the age of 18 she had to move into a shared house with alcoholics and ex-prisoners.
"Quite a lot of landlords don't want to rent to a young person on housing benefit without a guarantor.
"And when you say care leaver they don't want to know at all.
"It's a massive barrier. Not all young people in care are trouble," she said.
A more detailed plan for the pilot scheme will be considered by the council's Corporate Parenting Panel on 1 June with timescales for completion.