Cross-Channel passengers delayed by tougher security checks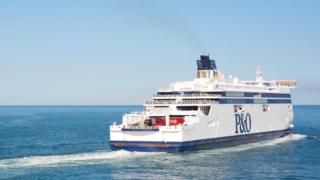 Cross-Channel passengers travelling to France have faced delays of up to 90 minutes due to enhanced security checks.
Delays have affected ferry and Channel Tunnel passengers with queues forming as travellers waited to clear customs.
By the afternoon, P&O said check-in "was clear" but advised passengers to arrive at least an hour before their booked sailing times.
Passengers held up would be put on the next available sailing, it said.
DFDS ferries advised passengers to have their passports ready on the correct page before approaching border control and the check-in booths in order to help the queues move faster.
In a tweet, Eurotunnel Le Shuttle said there were waits of an hour at check-in and 90 minutes on-site.
"We want to apologise to anyone impacted and working hard to send you away as soon as possible," it said.
A spokeswoman for the Port of Dover said the enhanced security checks at the French border control in Dover began on Thursday evening, at the start of the Easter weekend getaway when traffic was already heavy.
She said waiting vehicles were contained within the port, and the situation had begun to ease by 04:00 BST on Friday.
She added that anyone travelling over the holiday weekend should allow a little extra time when planning their journey.
However, the French Embassy said the delays at Dover were due to "tightened controls on trucks exiting the UK by the British authorities" and higher numbers of passengers due to the Easter break.