Barming homes without water due to sinkhole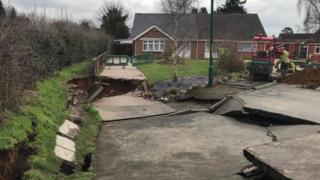 A large sinkhole that appeared in a road caused up to 30 properties to lose water supplies on Easter Sunday.
Part of the road surface collapsed in Broomshaw Road, Barming, Kent, "causing a leak on a six-inch water main".
South East Water said affected customers were without water "for a short time" but supplies have since been restored.
Resident Russ Palmer said: "It was a bit of a shock. We had a family day and couldn't use any water."
The hole appeared at the end of resident Nolly Clarke's driveway.
"I was just so glad that I wasn't driving my car over that part at the time," she said.
South East Water said it first received reports from residents alerting them to the problem at 08:00 BST on Sunday.
"Our technician visited the site and found that part of the road surface had collapsed, causing a leak on a six-inch water main," a company spokesperson said.
"Approximately 30 customers were without water for a short time before we were able to alter the flow of water around our network to restore supplies to everyone affected."
It said it had fenced the area off to make it safe and would return on Tuesday to complete repairs to the pipe and road.
Carol Valentine, highways manager for Kent County Council, added: "From a highways perspective, we have made the site safe and fenced it off."