Labour drops council candidate in anti-Semitism row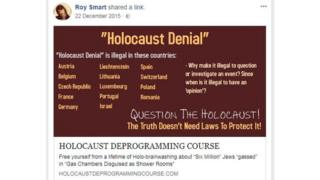 The Labour Party has dropped a local council candidate accused of sharing posts on social media urging followers to "question the Holocaust".
Roy Smart had been due to represent Labour for the St James' ward on Tunbridge Wells Borough Council in May's local elections.
The BBC understands the Labour Party took action after a number of Facebook posts were brought to its attention.
Mr Smart has been suspended pending an investigation.
A Labour Party spokesperson said: "Anti-Semitism has absolutely no place in the party, and we are committed to challenging and campaigning against it, in all its forms."
The BBC has made attempts to contact Mr Smart for a comment but he is yet to respond.
Among Facebook posts Mr Smart allegedly shared is one from 2015 which asks people to "question the Holocaust", adding that "the truth doesn't need laws to protect it".
'Fully investigated'
It links through to a "Holocaust deprogramming course" website, which bears the slogan: "Free yourself from a lifetime of Holo-brainwashing about 'Six Million' Jews 'gassed' in 'Gas Chambers Disguised as Shower Rooms'."
However, in another post on Mr Smart's Facebook account, there was a plea not to confuse "ordinary peace-loving jews" with "the war-mongering, child-killing zionists in Israel".
On Sunday, the Labour official at the centre of a row about anti-Semitism resigned from the party's ruling committee.
Christine Shawcroft quit the NEC after it emerged she had opposed the suspension of a council candidate accused of Holocaust denial.
Dozens of Labour MPs and peers had urged Labour leader Jeremy Corbyn to suspend her from the ruling committee, while Mr Corbyn was criticised last week for originally questioning the removal of an anti-Semitic mural in east London.
On Sunday, the shadow Northern Ireland secretary Stephen Pound told BBC Radio 4's Westminster Hour that the issue of anti-Semitism was being used to "attack" Mr Corbyn.
"I think the Labour Party without a doubt has a problem, but on the other hand there are some people who are riding that horse to attack Jeremy Corbyn anyway," he said.
The Labour Party said in a statement on Monday: "Labour takes all complaints of anti-Semitism extremely seriously, which are fully investigated and appropriate disciplinary action taken in line with our rules and procedures."
A new Labour candidate for St James' ward will be selected ahead of the 3 May election.