Maidstone Hospital A&E changes after brain tumour missed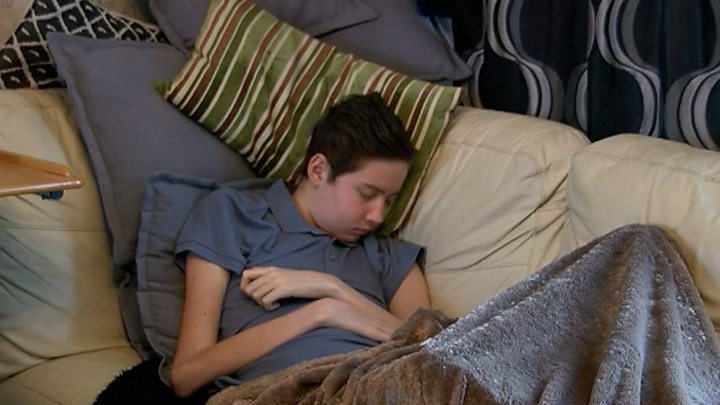 Hospital bosses have changed their admissions procedures after a teenager with an undiagnosed brain tumour was sent home with painkillers.
Jayden Powell, 17, went to Maidstone Hospital after suffering with "unbearable" headaches for six weeks.
A GP in the A&E department diagnosed a migraine and advised him to take paracetamol and ibuprofen.
IC24 - the care provider used by Maidstone and Tunbridge Wells NHS Trust - has implemented new guidelines.
Now children in such pain will be admitted to A&E rather than being referred to an on-duty GP.
A trust spokesman said Jayden had seen by a triage nurse when he went to A&E on 17 February 2017 and had been "appropriately referred" to a GP within the department - a service run by IC24.
The GP diagnosed the migraine and told the teenager to see his own GP if symptoms continued, IC24 said.
Jayden, from West Malling in Kent, was diagnosed after an optician spotted signs of a growth a few days later.
His father Stephen Powell said: "We'd given him all the pain relief, this was the last option, and the hospital turned us away."
Dr Andrew Catto, chief medical officer at IC24, said following meetings with the family's GP and the trust's A&E department it was agreed a child with a pain score of four out of five would go directly to A&E "rather than be triaged as they were in this case, to a GP".
Jayden had a 4cm tumour removed, but it returned and in January his family was told he had just months to live.
As the treatment he needed is not available privately to anyone under 18, his family took him to a clinic in Germany.
"It's working, and he's still here," Mr Powell said.
He said the clinic is waiting for tumour tissue to be sent to Germany so further treatment can be planned.