Michael Morris jailed over A20 laughing gas death crash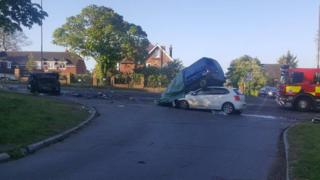 A man has been jailed for more than eight years after he used laughing gas just before his car hit a van, killing a musician and his friend.
Michael Morris, 19, admitted two counts of causing death and four counts of causing serious injury by dangerous driving at Woolwich Crown Court.
The court heard the two men in their 20s died at the scene of the crash near Swanley on the A20 on 29 April 2017.
After the hearing, police said the crash affected "countless" lives.
The court heard Morris was with four friends and driving his Vauxhall Insignia when he lost control, drove on the wrong side of the road and hit a van, which then hit a VW Polo.
The two in the van who died were keyboard player Mike Crampton from the Dartford ska punk band The Pisdicables and his friend James Montegriffo.
Morris and three of his friends had serious injuries and three people in the Polo were hurt, one seriously.
Police said he had been travelling at 72mph on the 60mph road.
During the case, Morris admitted to using nitrous oxide in the moments before the crash.
Det Con David Holmes said: "On the night of this incident the weather was clear and the roads were dry and there was no logical reason as to why Morris lost control of his car crossing over the road and into the oncoming van."
He said nitrous oxide use had side effects that often included euphoria, drowsiness, loss of muscle control and could affect judgement.
Morris, of Broad Road, Swanscombe, was jailed for eight years and eight months, disqualified from driving for four years and told to pay a £170 victim surcharge.