Chinese protests fail to stop 'illegal' water vessel sale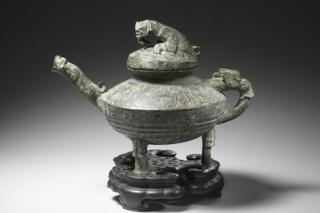 A rare sacred Chinese bronze water vessel made between 2,200 and 3,600 years ago has been sold despite protests by the Chinese government.
The recently discovered bronze Tiger Ying sold at auction for £410,000, Canterbury Auction Galleries said.
China's State Administration of Cultural Heritage condemned the auction saying the relic was taken illegally from the country in the 19th Century.
Only six similar vessels were previously known to exist.
The vessel dates from the Western Zhou dynasty - 1027-771 BC - and was named the Tiger Ying because the spout and cover were each cast with models of the animal, the auctioneers said.
'Respect national feelings'
It was taken by a British soldier during the capture of what is now called the Old Summer Palace in 1860. The auction house said letters from a Royal Marines captain to his family detailed the looting of the site, with one reading: "I succeeded in getting several bronzes and enamel vases that will, I hope, some day find their way to [his home in the UK]."
The vessel was found with three other later Qing dynasty bronze works of art in a home in Kent and had been given an estimated price of between £120,000 and £200,000, a Canterbury Auction Galleries spokesman said.
The Chinese government agency said it had contacted the auction house "through various channels", demanding the cancellation of the sale and telling the auction house to "abide by the spirit of international agreements and code of professional ethics, as well as respecting the cultural rights and national feelings of the Chinese people".
Hajni Elias, a Chinese art and cultural historian, said: "We cannot underestimate the wealth and sophistication of the late Zhou culture that created such an outstanding bronze vessel. Only men of high status, such as a king, his nobles and officials were able to obtain them.
"They represent some of the finest vessels and are treasured by collectors and connoisseurs worldwide."
The State Administration of Cultural Heritage said it would "continue to take all necessary measures to retrieve cultural relics illegally obtained from China".
The auctioneers said they would not be commenting on the Chinese requests.