Kent family's 'disgust' at teenage killer's single punch sentence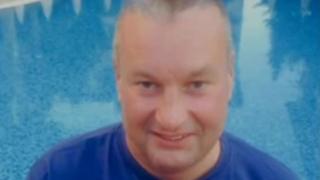 The family of a man who died from a single punch has branded his teenage killer's jail sentence as "disgusting".
Wayne Chester, 50, was attacked by Andre King, now 17, during a night out in Maidstone, Kent, last September.
Mr Chester's sister Naomi White said King, who was jailed for three years and three months after admitting manslaughter, has "the rest of his life ahead of him".
The Minister of Justice has declined to comment.
Following King's sentence at Maidstone Crown Court on 3 May, the judge said he did not think it would be regarded by the family as remotely adequate but said he was young and was beginning to accept the consequences of his behaviour.
Mrs White said: "He's got the rest of his life, Wayne hasn't and his children haven't. I just think it is completely wrong.
"If he wants to act like an adult he should have been sentenced like an adult."
Mr Chester was leaving McDonalds in Maidstone with a friend when a verbal altercation with a group led to King punching him in the face.
The court heard Mr Chester did nothing to provoke it. He died the following day.
Andy White, Mr Chester's brother-in-law, said: "It is heartbreaking. It should never have happened.
"He was 50 years old. It is such a waste."
Sophie Khan, a lawyer commenting on the case, said: "The judge cannot be criticised for giving the sentence because of the circumstances of the single punch in a situation where it was never intended for anyone to die."