Kyle Yule death: Accused teen denies carrying knife on night of stabbing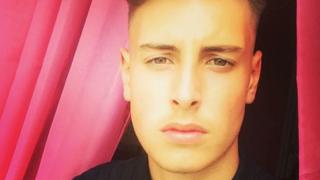 A teenager accused of murdering a 17-year-old boy has denied carrying a knife on the night he was killed.
Kyle Yule, 17, from Gillingham, died after being chased from a parked car in East Street, after a row between rival groups on 6 October.
Victor Maibvisira, 19, and four other boys under the age of 18, deny murder.
Giving evidence for the first time at Maidstone Crown Court, Mr Maibvisira, admitted punching Kyle but insisted he did not have a knife or machete.
Mr Maibvisira was asked about a series of disputes between his friends and Kyle's which led up to the night last year when Kyle was stabbed.
The court heard how on the night of the stabbing, Mr Maibvisira was looking for his bike, which he claimed had been stolen by one of Kyle's friends.
He admitted that when they saw that friend's car parked on East Street in Maidstone, they started hitting and kicking it.
'A few blows'
At that point, Kyle got out of the driver's seat and ran across the road to a nearby house. The group chased him.
But Mr Maibvisira claims he only realised who it was when Kyle turned around and punched him.
He told his defence barrister Judith Khan: "I punched Kyle and we exchanged a few blows."
He said it lasted "literally a couple of seconds" before he withdrew.
He told the court that at that point another person in the group, who cannot be named because of his age, lunged towards Kyle - but he didn't see the contact.
Mr Maibvisira denied having any weapons including either a samurai sword or machete.
He told the jury the group then ran away.
Kyle Yule went to hospital with several knife wounds but died on the operating table.
Mr Maibvisira, three 17-year-olds and a 16-year-old, who cannot be named because of their ages, are also accused of violent disorder.
One of the 17-year-olds is also facing a count of affray.
The trial continues.