Kyle Yule: Accused teen says co-defendant confessed to killing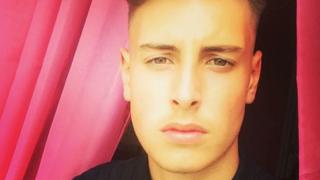 A teenager accused of murdering Kyle Yule told a court another member of his group admitted to stabbing the 17-year-old.
Kyle, from Gillingham, died after being chased from a parked car in East Street, after a row between rival groups on 6 October.
Victor Maibvisira, 19, and four other boys under the age of 18, deny murder.
Mr Maibvisira told Maidstone Crown Court one of the younger defendants had admitted stabbing Kyle.
'Manipulative individual'
Speaking in court, he said: "I asked him what happened. He replied back to me and said he had stabbed Kyle.
"I asked: 'Why did you stab him? There was no need for it.' He shrugged his shoulders."
Mr Maibvisira, previously admitted having a fist fight with Kyle that night, but said he was not carrying a knife.
The co-defendant he referred to gave evidence last week that it was Mr Maibvisira who had confessed to stabbing Kyle Yule.
Cairns Nelson QC, representing the co-defendant, said to Mr Maibvisira earlier: "You're a controlling and manipulative individual.
"You, I suggest, would do and say anything to save your own skin."
He accused Mr Maibvisira of threatening to stab people throughout the summer of 2017.
Mr Maibvisira denied the accusations and said: "'I did not kill Kyle Yule."
Mr Maibvisira, three 17-year-olds and a 16-year-old, who cannot be named because of their ages, are also accused of violent disorder.
One of the 17-year-olds is also facing a count of affray.
The trial continues.