Four men jailed for hiding criminal cash in chicken feed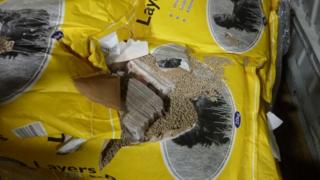 Four men from Poland have been jailed for trying to smuggle almost £1.5m out of the UK in sacks of chicken feed.
Vacuum sealed packets of notes were found in two vans stopped at Folkestone's Channel Tunnel terminal eight days apart in November 2015.
The sacks of feed, which were allegedly destined for a zoo in Poland, had been opened and glued back together.
Mariusz Ancygier, Mariusz Maciag, Adam Grobelny and Marcin Nowaczyk denied possessing criminal property.
Ancygier, 28, and Maciag, 38, were arrested driving the first van containing £980,000 in cash on 11 November 2015 and jailed for seven years following a trial at Canterbury Crown Court.
Grobelny, 32, and Nowaczyk, 29, were arrested when the second van was stopped by Border Force officers with £500,000 cash on 19 November 2015 and jailed for two years each.