Kyle Yule: Teenagers guilty of murder and affray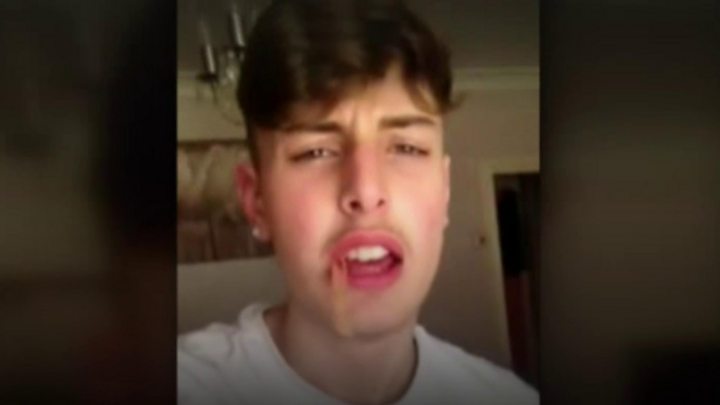 Five teenagers have been convicted of the murder of a 17-year-old who was found dying in a friend's front garden.
Kyle Yule died on the operating table after suffering five stab wounds and other injuries an attack by the gang.
Victor Maibvisira, 19, Jordan Dania, 16, Shezakia Daley, 17, Ephrain Akinwunmi-Streets, 17, and Tyler Ralph, 17, denied murdering Mr Yule in East Street, Gillingham, in October.
But they were unanimously convicted by a jury at Maidstone Crown Court.
Judge Adele Williams lifted the reporting restrictions banning the naming of the under-18s following the conviction "in the interests of open justice".
Kyle's mother, Nikki Yule, paid tribute to her son following the verdict: "Words cannot express the devastating loss of my precious son. His death has broken my heart and my children are broken without their big brother"
She continued: "Kyle was a beautiful, kind-hearted, funny boy. He was my best friend. He was extremely popular, brightening up people's day, often the centre of attention and making everyone laugh. He was a fantastic big brother, grandson and son. He was very much loved and is so dearly missed.
"I want to say a particular thank you to the witnesses, many of them only teenagers, who have shown remarkable courage in standing up to these defendants and giving evidence. These young witnesses saw my son being murdered and now have that shocking memory that will live with them forever."
---
Medway's 'youth gangs'
It is understood the stabbing of Kyle formed part of an ongoing 'turf rivalry' in the Medway Towns.
The court heard Kyle was affiliated with 'G10' in Gillingham, while the defendants were a part of 'C4' in Chatham.
Both groups are described as gangs in a Medway Council report into tackling gang violence.
However, both Kent Police and Gillingham and Rainham MP Rehman Chishti deny this was a gang murder.
Mr Chishti did admit the area has "gang crime issues, linked to the wider issues in London spilling out over here".
There were 73 stabbings in Medway last year, two of them - including the attack on Kyle - were fatal.
Kent Police and Crime Commissioner Matthew Scott said: "We are going to put more boots on the ground."
He confirmed 200 more officers are being employed in Kent, the majority of which will go into local and visible policing.
---
The court heard the group of "hooded up" boys set on Mr Yule, who lived in the town, in the latest in a series of disputes involving the teenagers.
A friend told the court Mr Yule was forced to flee from his car after it came under attack, but failed to make it to a friend's house nearby.
One witness said the group "were on him like vultures, kicking and punching him".
Maibvisira, of St John's Road, Gillingham, and the other defendants, from Gillingham, Sittingbourne, Croydon, and Stevenage in Hertfordshire, also denied affray and violent disorder, but were convicted on those counts as well.
During their evidence, Maibvisira and one of the 17-year-olds blamed each other for the killing.
The 19-year-old was described by the other's barrister as "a controlling and manipulative individual" who would "do anything to save [his] own skin".
One of Mr Yule's friends, describing the moment he found him, said: "I remember pulling off [Kyle's] jumper. He was losing so much blood.
"I remember him telling me he's not going to live. Me and my mum, we tried our best."
They will be sentenced on Thursday.