Dover man admits killing nine-week-old daughter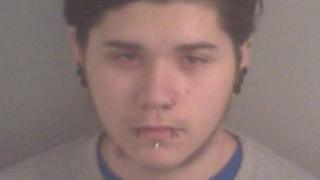 A father who admitted killing his nine-week-old daughter after shaking her "excessively" has been jailed for eight years.
James Ring, 21, formerly of Dover, initially pleaded not guilty to murdering Aria Ring.
He admitted a lesser charge of manslaughter at Maidstone Crown Court.
The seriously ill child was taken to a London hospital after being found at a house in Kent on 7 January 2017 but died two days later.
'Catastrophic'
The court accepted the plea and heard Ring caused the fatal injury to his daughter by shaking her with "severe and excessive" force.
He was described as lazy and always playing on his Xbox. He had been left alone with his daughter for 17 minutes to feed her when the injuries occurred.
Ring initially denied shaking his daughter, but later accepted he was responsible for the injury that killed her.
He also admitted striking her on the back of the head two weeks before she died and claimed he was frustrated because of her crying.
Judge Philip Statman told Ring: "You shook her with catastrophic consequences.
"You knew when you did so just how vulnerable baby Aria was at that age... You will live for the rest of your life in the knowledge of what you did to baby Aria."
'Extremely tragic'
Speaking after the sentencing Det Insp Tristan Kluibenschadl said: "This has been an incredibly sad and emotional case and the death of any child is extremely tragic.
"My sympathies are with the baby's family who have suffered a drawn out case right up to the start of the trial due to Ring's inability to simply tell the truth about what happened that day.
"With the case now over I hope the family can take the time to grieve and move forward from this very sad ordeal."