Medway NHS breast cancer error leads to £170K payout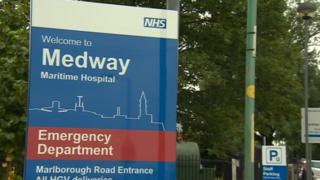 A woman who became terminally ill after medical bosses failed to offer her a mastectomy for her breast cancer has been awarded £170,000 in damages.
Solicitor Shantala Carr said the woman developed untreatable liver cancer but a mastectomy may have saved her life.
Medway NHS has apologised and said it had addressed errors that were made at Medway Maritime Hospital.
The woman, who does not want to be named, said she was devastated, adding: "It's hard to believe it's happened."
Mrs Carr said the mastectomy could have have put her in remission and left her with a less than 1% chance of a relapse.
"They should follow procedures that are put down for them and that didn't happen with me," the woman, from Gillingham, added.
£11,000 initial offer
Ms Carr explained: "The mastectomy wasn't even given as an option despite it being in national guidelines that it should be, so national guidelines weren't even followed.
"Here, sadly, it's cost our client her life."
The lawyer said the trust initially offered £11,000, on the basis they made no admissions, before she challenged them on the payout.
Ms Carr, who works for Girlings Solicitors, said: "The £170,000 was actually agreed at mediation, so no admissions at all were made by the trust."
You may also be interested in:
Benn Best, executive director of clinical operations for planned care at Medway NHS, said the patient and her family had received the trust's sincere apologies for failings in care.
"Since the events of this case, we have addressed the errors that were made with the clinicians that treated her," he said.
"All potential cancers are now subject to an alert system, where they are investigated thoroughly and promptly by a multi-disciplinary team of staff who specialise in the care of particular cancers."
He said the trust had also implemented a stronger system of clinical governance so any mistakes or near-misses would be addressed within 48 hours.