RSPCA rapped over Headcorn cattery job for boss's daughter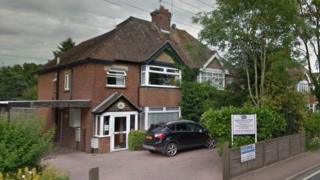 Failings in the process which saw an RSPCA boss's daughter appointed manager of one of its catteries jeopardised public confidence, a report found.
Katie Toms, whose mother Daphne Harris is chair of the charity's national council, runs the shelter in Kent.
The Charity Commission found "shortcomings" in the recruitment process for the paid live-in position.
The RSPCA said it had "fallen short" of following proper procedure and claimed staff had "acted in good faith".
There was no evidence of "deliberate mismanagement", the Charity Commission added.
The animal charity's Tunbridge Wells and Maidstone branch bought the property in Headcorn in December 2010.
A probe was sparked by a newspaper article criticising the amount of money spent on the property, which housed Ms Toms, when it opened in late 2011.
While "aspects of the article were found to be inaccurate", a number of concerns were identified from the reporting, the commission said.
Its investigation largely focused on the building purchase and Ms Toms' appointment as cattery manager.
She was a branch trustee when she and her mother approved buying it in December 2010, the report said.
Once Ms Toms expressed an interest in the manager's job, fellow trustees "took steps to ensure a fair recruitment process", the commission said.
Mrs Harris had no involvement in the appointment, which was overseen by a panel chosen by the national charity.
While it acknowledged steps were taken to "manage the conflict of interest arising from [Ms Toms'] application," the commission said her mother's connection to panel members through her work on a national level "created a real risk to the perception of independence of the recruitment process".
As a result, public confidence in the charity was jeopardised, it concluded.
The watchdog also criticised the branch's record-keeping, finding minutes from meetings to be "minimal" while annual reports were "inadequate".
The commission has issued the charity with an action plan to "resolve weaknesses in the charity's management and administration".
A spokeswoman for the RSPCA said the charity had "embraced" the recommendations made by the commission.
She added: "The branch trustees, who are all volunteers, acted in good faith and believed that they had followed the proper procedures, but accept that, on this occasion in 2011, they fell short."