Taiyah Peebles' call for help before Herne Bay railway death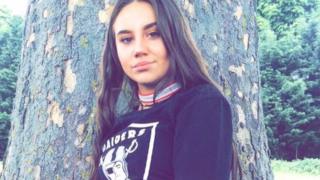 A 16-year-old girl died from electrocution after wandering onto train tracks following a night out with friends, a coroner has concluded.
Taiyah Peebles got off a train at Herne Bay station, Kent, around 23:00 BST on 25 July 2017, but became separated from the group, including her boyfriend.
Her friends searched for her and she called one of them in tears and said "I don't know where I am".
A train driver found her on a 750 volt conductor rail the next morning.
CCTV from the train showed Taiyah smiling with friends, and then stumbling and falling over while moving between carriages to the toilet. The last of the footage showed her getting off the train separately to her groups of friends.
The inquest at Canterbury Magistrates Court heard evidence from her friends of a second call made to Taiyah in which she said she was "in a field" and needed to "sort herself out".
Toxicology results revealed the alcohol level in her system was twice the legal drink-drive limit, and she had used cannabis.
Her boyfriend Adam Wilson continued to call to Taiyah up until 03:00.
He thought she was not answering because she was "still annoyed" over an earlier argument between them, the court heard.
Assistant coroner Ian Goldup said it was "unclear" exactly how Tiayah came to be on the tracks, but he concluded she was "unable to help herself and her death was an accident".
A post-mortem examination found extensive burns across her body and pathologist Dr Charlotte Randal concluded she "died instantaneously due to cardiac arrest from electrocution".
Since her death, Taiyah's mother Hayley Peebles has been campaigning for improved safety on the railway and a gate has now been installed at the end of the platform.