Blaze at Smarden mattress 'mountain' site investigated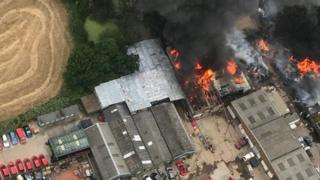 The Environment Agency is investigating a large blaze at a recycling centre which had been flagged as a fire risk.
Storage containers at Eco-Matters near Smarden, owned by Lewis Bertram, went up in flames on Sunday morning.
Bertram was fined £15,000 in September for failing to clear a 16ft (4.8m) pile of matresses, after being handed a suspended jail sentence earlier in the year for breaching environmental laws.
The agency said it was looking "to understand how the blaze occurred".
A spokesman added: "Our officers are assessing impacts to air quality, and ensuring that the local environment is protected. They will continue to support firefighters throughout the duration of this incident."
Six engines from Kent Fire and Rescue Service were called out and firefighters remained at the scene on Monday.
Station manager Charlie Smith said: "The fire was very intense and affected the structure of the building.
"We can't go into buildings when it's unsafe so we have to wait for those buildings to cool and get advice of the stability of the buildings before we go in."
The mattress pile was initially reported to authorities in 2014 and the Environment Agency was alerted by neighbours' complaints that the rubbish posed a fire risk to nearby properties and risked damaging rivers.
In February 2017 Judge Heather Norton agreed with the concerns raised and said Bertram left "an eyesore and a fire hazard" when she sentenced him to a six-month term, suspended for two years.
When he failed to clear the mess in September of that year, he was fined.
It is unconfirmed how many mattresses remained on the site when it caught light.