'Cruel' parents jailed after newborn baby's death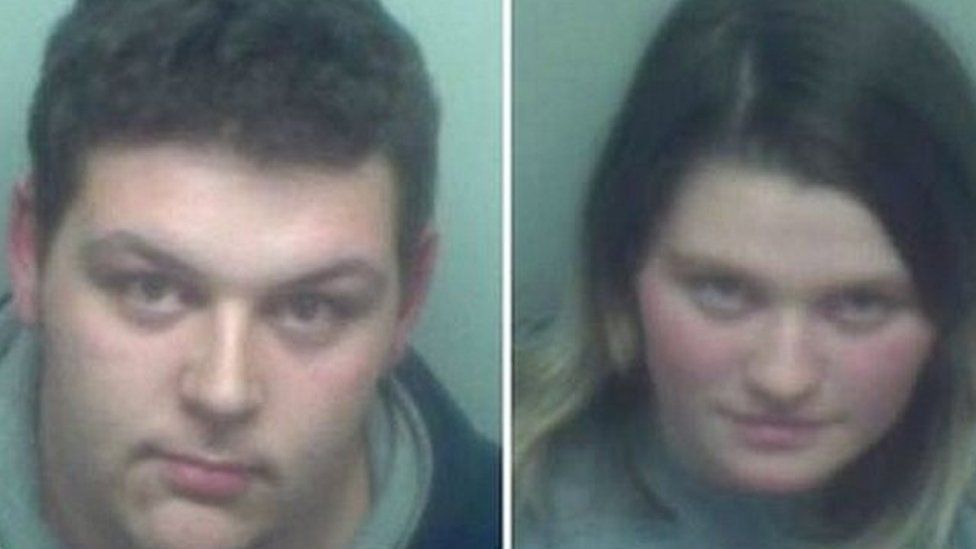 A mother and father have been jailed for inflicting "cruelty of a high degree" on their three-week-old baby boy who went on to die.
Paramedics were sent to Marina Smythe and Michael Osbourne's home in Tonbridge, Kent, in December 2016 but their son Bailey could not be revived.
Bailey's injuries - including a broken leg and bruising - were discovered after he died from pneumonia.
Both parents were jailed for eight years at Maidstone Crown Court.
Osbourne, of Walter's Farm Road, and Smythe, who used to live with him, had both denied causing or allowing serious physical harm to the baby boy but were convicted by the jury.
Sentencing, Judge Adele Williams said experts had agreed the leg fracture was by "pulling, yanking or twisting his leg, either picking him up by the feet or swinging him", head injuries were inflicted by blunt force trauma and the baby was found with other injuries.
She said the injuries did not contribute to Bailey's death, but added they would "have caused great pain and suffering and continuing discomfort" and the baby "would have been screaming and crying".
She said: "Bailey deserved to be loved, cared and protected by you his parents.
"Instead of this he was caused these injuries and the suffering that accompanied them.
"This was cruelty of a high degree."
The judge added she could not be sure which defendant had inflicted the injuries.
But she said: "Evidence points to you Michael Osbourne, though whichever it was you must both bear equal responsibility and blame."
After the hearing, police said both parents had denied inflicting the injuries and had blamed each other.
Det Con Alex Hayter, from Kent Police, said: "Both parents would have suffered huge distress as a result of the death.
"But it is also clear that neither have given a true account of their child's last few days."
An NSPCC spokesman said: "Shockingly, those injuries were carried out by the very people who should have protected him [Bailey] from harm."
Related Internet Links
The BBC is not responsible for the content of external sites.