Channel Tunnel rail delays continue due to 'extreme heat'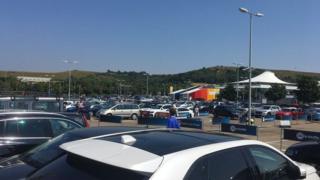 "Extreme and prolonged" temperatures were blamed as cross-Channel rail passengers faced more disruption.
Eurotunnel earlier warned of delays of about two-and-a-half hours at its terminal near Folkestone in Kent.
It took the "unprecedented decision" to stop passengers travelling on Friday if returning that day or Saturday.
It comes after reported delays on Thursday of more than five hours in 30C heat, caused by air conditioning problems on Eurotunnel's trains.
"We are not in control of the weather," a spokesman told the BBC.
"The prolonged and unprecedented temperatures in the south east of England are affecting the air conditioning on board our shuttles," he said.
"Due to the high level of traffic booked, we are currently unable to check-in any customers arriving more than two hours before their booked crossing time."
Eurotunnel suggested people cancelled trips if they were able to and warned ferry companies "do not have the availability to take any of our customers".
The company said trains were running at full capacity, but "that may change as the temperature rises" and the air conditioning units cannot handle the high temperatures.
About 12,000 cars had been expected to use the service on Friday.
About 400 day trips from Folkestone were cancelled on Friday but day trip tickets had still been valid from France, he said.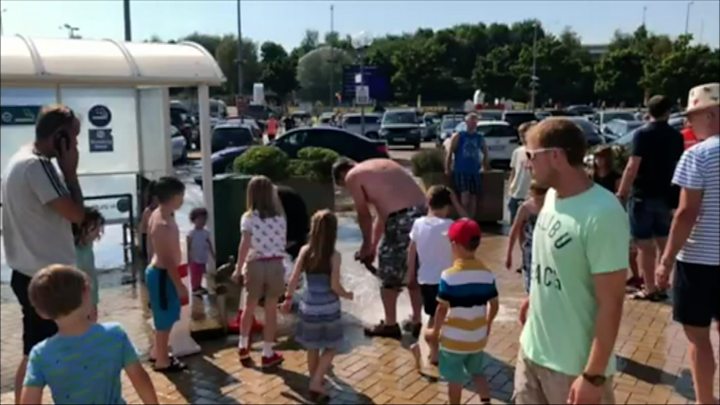 In a statement, Eurotunnel said: "We strongly recommend you stock up with drinking water before you arrive at our terminal, there is a long queue to check-in with no access to facilities."
There were no reported delays for customers travelling from Calais to Folkestone, the company's website said.
Eurotunnel carries passengers in cars, vans and other vehicles through the tunnel.
Eurostar, which runs foot passenger services between London and several European cities, said its services had not been affected.