Japanese-themed bar accused of cultural appropriation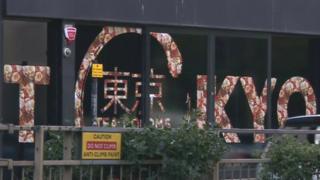 A new Japanese-themed cocktail bar has been accused of cultural appropriation by an MP after dressing white women in kimonos and geisha-style make-up.
In a Facebook post, Labour MP Rosie Duffield branded Tokyo Tea Rooms in Canterbury "culturally insensitive".
She said the bar had "crossed the line from cultural appreciation to cultural appropriation" on its opening night.
Its owners said they had not intended to mock the culture they used as the inspiration for the venue.
But representatives from the University of Kent student union, Kent Union, have called for people to boycott the bar.
In her post, Ms Duffield said: "I was disappointed to see that Canterbury's latest venue; Tokyo Tea Rooms took such a culturally insensitive approach on their opening night last weekend.
"Guests were welcomed into the Japanese-themed nightclub by white hosts wearing kimonos and geisha-style makeup. (They have now removed all photos with the hosts from their Facebook page)."
'Blatant racism'
Omolade Adedapo, vice-president for welfare at Kent Union, said on Facebook: "This is actually uncalled for, in 2018 people are still using other people cultures as a prop and costume for their benefit.
"I really hope all students collectively boycott this venue."
Her sentiments were echoed by others on the review section of the club's Facebook page.
Emmanuel Omodeinde wrote: "This is a blatant case of racism, orientalism and cultural appropriation."
In response to the criticism, manager Matthew Jones-Roberts admitted the club hadn't thought "long enough" about the reaction to "having Caucasian women dressed as Geishas" on the opening night.
In a statement he said: "At no point was this done to mock a culture that we have called upon to inspire our venue.
"The venue is inspired by Japan's rich culture of bringing people together through eating and drinking and lots of time was taken to provide guests with a rich and evolving experience that can be enjoyed."
He added the owners had received messages of support from people in Japan and on social media.
The row comes in the same week Jamie Oliver was accused of cultural appropriation for calling a new product "punchy jerk rice".
The TV chef said he used the name to show where he drew his culinary inspiration from.